For Starters
Coloradans Hallberg, Rohrbaugh open with 72s at final stage of PGA Tour Champions Q-School
by Gary Baines - 11/27/2018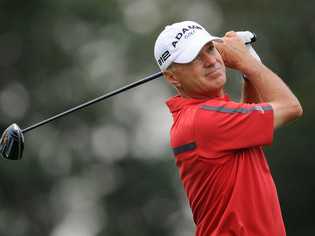 The odds are demanding this week at the final stage of PGA Tour Champions Q-school.

Out of a 78-man field at TPC Tampa Bay in Lutz, Fla., only the top five finishers will earn fully-exempt status for 2019. And it's a big drop down to the next available status as finishers 6-30 -- and ties -- will earn associate membership, which gives players access to individual-event qualifying tournaments while bypassing pre-qualifiers.

With that as a backdrop, the two Coloradans competing this week in the 72-hole final stage had solid, if unspectacular, starts. Both Gary Hallberg (left) of Boulder County and Doug Rorhbaugh of Carbondale shot 1-over-par 72s on Tuesday, leaving them in a share of 18th place.

Hallberg, who won a PGA Tour Champions event in 2010 to go along with three PGA Tour victories, birdied the last hole and finished the day with four birdies to go along with five bogeys. Hallberg finished eighth in the PGA Tour Champions PURE Insurance Championship in late September and placed 63rd on the 2018 Charles Schwab Cup money list, leaving him with conditional status for next year unless he places in the top five this week.

Rohrbaugh, the Colorado PGA's Player of the Year and Senior Player of the Year in 2018, likewise had a four-birdie, five-bogey day on Tuesday. Rohrbaugh had conditional status on PGA Tour Champions in 2015 and has competed in 11 Champions events in his career, including two majors this year.

Mauricio Molina, who shot a 4-under-par 67 on Tuesday, leads after the opening round. The players who share fifth place stand at 1-under-par 70.
Here are the round-by-round scores for Coloradans competing in the final stage of PGA Tour Championship Q-school this week:
18. Gary Hallberg of Boulder County 72
18. Doug Rohrbaugh of Carbondale 72

For all the scores from the final stage, CLICK HERE.