Love-ing the Outcome
After getting advice from Davis Love, son Dru makes eagle in playoff to win CoBank Colorado Open; CGA/CWGA receive award
by Gary Baines - 7/29/2018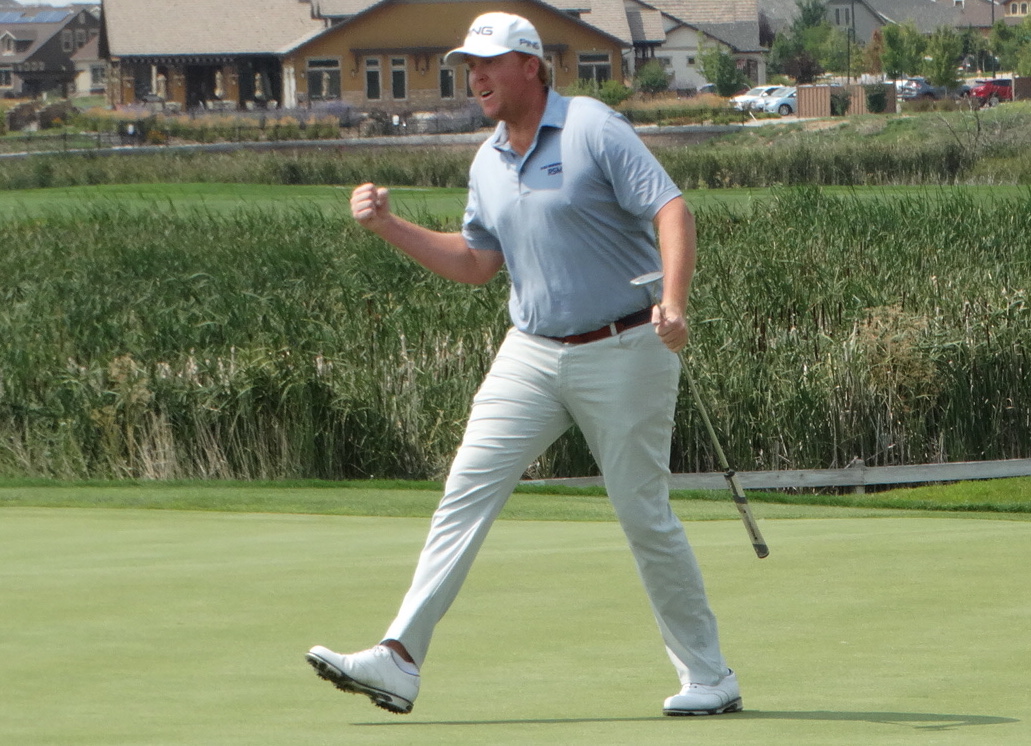 Even from afar, World Golf Hall of Famer Davis Love III had an impact on Sunday's proceedings down the stretch at the CoBank Colorado Open at Green Valley Ranch Golf Club in northeast Denver.

With his son, Dru Love, in a playoff for the title, but having hit some poor shots in the last three holes of regulation, the younger Love quickly gave the old man a call.

"He gave me some advice," Dru relayed later. "He's been in a lot of playoffs. He's won a lot of them and lost a lot of them so he knows what he's doing. He gave me some good advice. I went to the range and did what he told me. And under that much pressure I didn't hit a single bad shot in the playoff.

"I told him the last three holes (of regulation) I didn't hit it good. Someone told me, 'You're tied for the lead' after I chipped in for birdie (from 30 feet on No. 15). When they told me that, I got really excited, a little nervous, and I didn't play very good golf the last few holes. To get in with three pars the last three was actually really good from where I was a few times.

"(Davis) told me to go to the range, slow everything down and take big, long, slow swings and get clean contact. Hit 9-irons 100 yards with big, smooth swings, so you can get your feel back. I had kind of lost it there the last hole, skulling a 9-iron from the rough (with his third shot before hitting his fourth to 6 inches from a bunker 135 yards out and saving par). So he just told me to get back my contact, get some confidence back and go beat 'em. Take 'em down."

And Dru did just that.

The 24-year-old from Sea Island, Ga., prevailed on the second hole of a playoff in spectacular fashion. Playing the par-5 18th hole -- a dogleg right with trouble all along the right side -- for the third time in an hour, Love hit a 2-iron from 280 yards that ran up 30 feet short of the hole. And he rolled the putt right into the middle of the cup to defeat Sam Saunders of Albuquerque, who had shot a 12-under-par 60 to force the playoff.


"It feels great to get this done," said Love (pictured left and above). "I know my dad is really happy for me and we'll have a big party when I get home."

Love notched the biggest win of his career and earned $100,000 in the process. Saunders settled for a far smaller check -- $20,000 -- for finishing second.

Love closed with an 8-under-par 64 despite bogeying his first hole on Sunday. Counting the playoff, he made an eagle and nine birdies in his final 19 holes. He finished with a 19-under-par 197 total in the weather-shortened event.

Dru Love is far from the first member of his family to win significant golf tournaments in Colorado. His dad captured the PGA Tour's International twice at Castle Pines (1990 and 2003). And his grandfather, Davis Love II, won the CGA Junior Match Play in both 1953 and '54.

As for Saunders (below) on Sunday, he carded an eagle, 10 birdies and one bogey in regulation. Needing to make a 20-foot birdie on the 18th hole for a 59, he left the putt a foot short and "settled" for a 60, which was two strokes better than the previous course record at GVR.


Coloradans Shane Bertsch and Riley Arp, who were 1-2 going into the final round, each birdied the final hole to share third place at 198, good for $9,500 apiece.

Other Coloradans to place in the top 10 were two-time Colorado Open champion Derek Tolan (seventh place, 203) and amateur Kyler Dunkle of Parker (ninth, 204). Tolan made six straight birdies on the front nine en route to a 65 on Sunday.

While Love's championship-winning eagle was plenty impressive, he needed a disjointed par on his 54th hole to even force the first Colorado Open playoff since 2008. His drive there went left, narrowly avoiding the hazard. His next shot went about a foot into the primary rough, where he drew a good lie, but skulled his next about 50 yards into a bunker near the right hazard line. Love admitted the shot "rattled me pretty good."

But from there, he almost holed out a stellar sand shot from 135 yards, leaving himself with just a tap-in par.

"It was the worst shot I've ever hit in pro golf, without a doubt, followed up with maybe one of the best," he said.

Between the final full swing in regulation and the eagle on the second playoff hole, "There's nothing like being in the moment and pulling shots off. It's why we play," Love noted.

"This is my best win ever. I've played some better golf, more complete golf, but I've never beaten a field this good. It's rewarding."

And what did dad say after Dru called him after he won?

"He answered the phone yelling, 'Way to go!'," Dru said of Davis. "I'm sure my girlfriend (who was at GVR) was texting him and my family and letting them know what was going in. As soon as that putt went in, I walked in here, grabbed my phone and called him. He just right away (said), 'Way to go.' He was real happy. Everybody was real happy. We're just going to have to celebrate."
Love's recovery on the final hole of regulation and his playoff eagle after he had missed a 6-foot birdie attempt on the first extra hole left Saunders with a roller-coaster of emotions.

"It sucks (not to win), but he played great and he made a great putt there. That's all you can do," said Saunders, who isn't to be confused with the golfer with the same name who used to live in Fort Collins and is Arnold Palmer's grandson. "I would have taken (second) coming into the week, so it was a good week."

Saunders' course-record 60 in the final round was a sight to behold as he forced overtime despite starting the day in 17th place and eight out of the lead.

Saunders had been struggling so badly with his game that within the last couple of months he'd contemplated giving up professional golf until he turned things around and recently won the San Juan Open. And on Sunday he tied the Colorado Open scoring record -- set by Nick Mason at Saddleback Golf Course in 2007 -- and was very close to shooting the elusive 59.

Saunders was 12 under through 16 holes, but missed a 15-foot birdie attempt on 17 and was in the front bunker in two on the par-5 18th. But he hit his sand shot a little fat, then
didn't get his 20-foot birdie attempt to the hole.

"I just wanted to shoot 59," the former Univeristy of New Mexico golfer said. "You don't have very many opportunities. But 60 is great. It's my best competitive round ever (by two). I played great. I just couldn't miss. so I can't complain. ... It was a great day, so much fun."

Before Love drained his winning eagle putt, Saunders had hit an outstanding long bunker shot on the second playoff hole and had 8 feet left for birdie.

As for the top Coloradans, Arp (left) essentially hit every green in regulation on Sunday until he slightly pulled his drive on 15 and his ball went into the water, leading to a bogey. His only other bogey was of the three-putt variety, on No. 8.

"I don't necessarily see it like I lost (the tournament)," the former Colorado State University golfer said. "They came back and beat some guys, including me. It's not the end of the world. I'm just going to take this and learn from it."

Bertsch, a veteran of the PGA and Web.com Tour, had two hiccups on his front nine, going into the sand on 5 and pulling his tee shot into the native on 6. Those were the only bogeys of the day for the 36-hole leader.

"All in all I obviously played good golf this week," the 48-year-old said. "But it only takes one shot just to get you thinking a little bit. And you know these guys are going to come at you. ... I feel good about what I've found in my game in the last month, but I sure would have liked to win it today."
Low-Am Honors Another Feather in Dunkle's Cap: It's been a good last few weeks for Kyler Dunkle of Parker.

The 2016 CGA Player of the Year qualified earlier this month for the U.S. Amateur, and on Sunday he tied for ninth in the Colorado Open and earned low-amateur honors.

The senior-to-be at the University of Utah shot rounds of 66-70-68 for a 12-under-par 204 total. That was one better in the amateur competition than Griffin Barela of Lakewood, who closed with a 67, and two better than CGA Match Play champion AJ Ott of Fort Collins (69 Sunday).

"This is my fourth time playing this tournament and I've missed the cut the last three years by one," Dunkle (left) noted. "To be able to play well enough this year to where I can take home low-amateur honors, that's really cool. I played some good golf. I'm really happy. It's hard to be disappointed when you shoot three rounds under par.

"It was a lot of fun. My dad was caddying for me and I'm sure he was a little more stressed out this week than I was, but it was a lot of fun for us to be out here."

On Sunday, Dunkle had an eagle from 1 1/2 feet, a birdie where he hit to 3 inches and another birdie to 1 foot. But he also three-putted from 4 feet once.

For the week, he capitalized big-time on the par-5s, playing them in 11 under par.

"It's been fun to see how much my game has progressed," the 21-year-old said. "It feel like I'm playing some good golf right now and I'm excited to go to the state am next week and to the U.S. Am in a couple of weeks."
Award for the CGA, CWGA: After the conclusion of the tournament, the CGA and CWGA were presented with the Robert M. Kirchner Award, which is given to an individual or organization for contributing greatly to amateur, professional and/or tournament golf in Colorado. The CGA and CWGA, each more than a century old, became one organization on Jan. 1 after a two-year integration process, joining forces to serve golfers in the state.

"For over a hundred years, two great organizations have represented amateur golf here in the state of Colorado -- from championships to course ratings to the handicap system," said Chris Nordling, chairman of the Colorado Open Golf Foundation. "And now these two organizations have come together to be one, for hopefully the next 100 years."

The CGA's co-presidents in 2018, Juliet Miner and Joe McCleary, accepted the award. (Pictured are, from left: Pat Hamill, founder of the Colorado Open Golf Foundation, Miner, McCleary and Nordling.)

"We get to represent over 60,000 golfers in the state of Colorado and we also get to work with young people," Miner said. "We try to help all the young people so that someday they can play in this tournament and make their parents proud."

For scores and the payout from the Colorado Open, CLICK HERE.