Strong Finish Gives Lee Title
School of Mines golfer birdies 36th hole to win CGA Match Play
by Gary Baines - 7/15/2011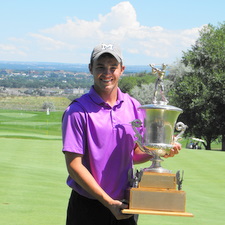 These Colorado School of Mines golfers certainly know how to finish with a flurry in CGA championships.
Eleven months after Mines teammate Jim Knous shot a final-round 60 at Boulder Country Club to force a playoff before ultimately placing second in the CGA Stroke Play, Michael Lee birdied two of the last three holes in Friday's 36-hole final to win the 111th CGA Match Play at Bear Creek Golf Club.
The 19-year-old from Greeley Country Club birdied the 18th hole for the fourth time in two days to clinch a 1-up victory over Jonathan Marsico of Castle Pines Golf Club.
"I birdied 18 every time I played it (in matches this week)," Lee said. "I had that confidence going in."
Lee needed it as he rallied from being 4 down after 16 holes and 2 down after 32 in the final. He won the 33rd hole with a par, then made two birdies coming down the stretch for his first CGA title. In between Lee's birdies, Marsico missed a 3-foot birdie attempt on the 35th hole.
The 19-year-old Lee only led after three holes in the entire match -- the sixth, 23rd and 36th.
"I hadn't really had any putts drop and I was still in it," he said. "So I knew if I had a few putts fall I'd be in it. And I really like (holes) 16, 17 and 18. They've been good to me all week. I had confidence if I could get it to 1 or 2 down with those three to go, I could pull through."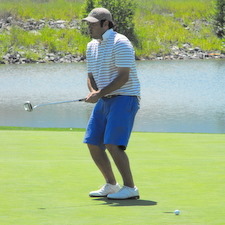 Lee squared the match by draining a 15-foot birdie putt on the 34th hole. He escaped unscathed when Marsico failed to convert his short birdie attempt on the ensuing par-3 (pictured at left). Then Lee hit a driver and a wedge to inside of 2 feet on No. 18. After Marsico conceded the birdie, his 20-foot putt slipped by the right edge of the final hole and the match was over.
"I'm definitely disappointed," said Marsico, the 2008 CGA Stroke Play champion. "On 17 I hit what I thought was a good putt. I don't know if it was a misread or it hit something. It went right and we thought it was going left. Then (Lee) made a great birdie on 18."
Despite leading the great majority of the match -- and once being 4 up -- Marsico never got ahead of himself by being overconfident.
"When you have 36 holes, everyone is going to make a few runs," the 29-year-old said. Lee "is too good of a player not to make his run. Unfortunately, he made it late in the match when there wasn't time to come back from it.
"It's a cliché, but you've got to look at it hole by hole. You can't look at the big picture. You can't get excited when you're 4 up. You can't get down when you're 2 down. You've just got to keep playing because it's 36 holes. It's kind of like an NBA basketball game. If you're up 12 that doesn't mean anything until that buzzer rings."
Marsico built a 4-up lead through 16 holes thanks to a conceded eagle and four birdies to that point. But Lee responded by winning five of the next seven holes to go 1 up. Marsico, who was competing in his first CGA Match Play, would make just one bogey the rest of the way -- on the 33rd hole -- but Lee prevailed after playing his final 10 holes in 3 under par.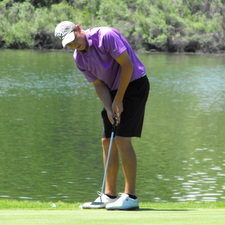 Lee (pictured at left) won his Thursday semifinal match over Derek Fribbs with a similar strong finish, making birdies on the last two holes to win 2 up. He also birdied the 18th hole in the morning round of the final, and in the quarterfinals.
Thursday afternoon, Lee's drive on No. 18 barely cleared the deep native grass just short of the fairway on the dogleg left. But it left him with just a half-wedge into the green on the par-4.
"I've been hitting all my wedges really well so I knew I had a good chance at that one," said Lee, who often plays Bear Creek during School of Mines team practices. "I like that (front) pin."
So Lee's name will go on the Richard C. Campbell Trophy, along with those of his 110 predecessors. "This means a lot," he said. "Anything that's been around 111 years … It's the biggest match play event in the state. Oh man, it feels good. It's a good accomplishment, probably my biggest accomplishment so far."
Lee becomes the second consecutive teenager to win the CGA's two most prestigious championships. Last August, then-16-year-old Wyndham Clark defeated Knous in a playoff to claim the CGA Stroke Play title.
Friday marked the fourth time in the last 11 years that the CGA Match Play final has gone 36 holes or more -- each time at Bear Creek.

View Final Match Hole-by-Hole
Final Match Play Tree
Go to CGA Match Play Results Archive