Wire-to-Wire
Prater fends off challenge, wins CGA Amateur by 5 at Boulder CC
by Gary Baines - 8/7/2016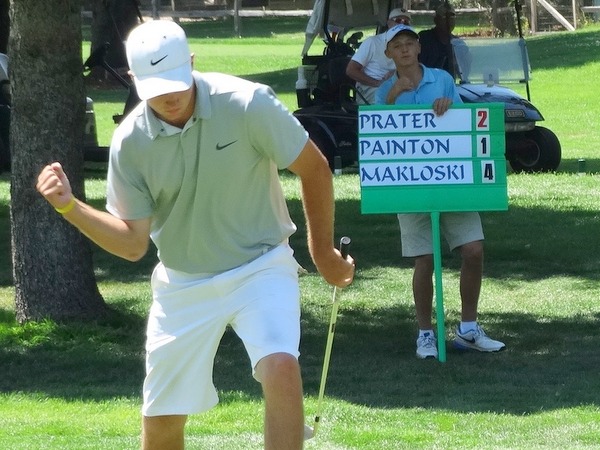 Colin Prater of The Broadmoor Golf Club had many notable accomplishments in golf prior to the last couple of weeks -- including five college wins and advancing to U.S. Open Sectionals last year -- but it's fair to say he's climbed the next rung on the ladder in the last 14 days.

On July 25 at Columbine Country Club, the University of Colorado-Colorado Springs golfer took the first big step up by qualifying for the U.S. Amateur. Then on Sunday at Boulder Country Club, he secured what he called "definitely the biggest win of my life -- by far" by claiming the title in the CGA Amateur Championship presented by Webster Investment Advisors.

By just about any standard, that's a heck of a fortnight.

"Except for my hiccup in the (CGA) Match Play (where, as the No. 64 seed, he lost to defending champion Nick Nosewicz in 20 holes in the round of 64), it's been a great summer," the 21-year-old said.


But while Prater (left) led wire-to-wire in the CGA Amateur and won by five strokes on Sunday, it wasn't quite as simple and straightfoward as it sounds.

Prater bogeyed the 10th and 11th holes and eventually saw his lead dwindle to three on the back nine at Boulder Country Club on Sunday. And it could have been worse if his drive on No. 12 ended up just an inch or two further to the right, which would have put him out of bounds. As it was (below) , Prater saved a par from 6 feet on the hole to minimize the damage, losing only one stroke to second-place Spencer Painton.


"I knew I needed to make that putt," he said. "If I don't make that, then it's (a two-shot lead)."

Then two holes later, Prater chipped in for birdie from 20 feet to turn the tide (pictured at top). And from then on, it was smooth sailing as the lifelong Colorado Springs resident claimed his first CGA title.

"I turned at 1 (over for the day), then I kind of lost it a little bit," he said. "I hit a terrible shot on 10 from the fairway, a terrible tee ball on 11, and a terrible tee ball on 12, and I didn't hit a good tee ball on 13. I was almost trying to find (my game). But to be able to chip that ball in on 14, that was huge. It definitely settled me down and I got some confidence. For me that was the turning point in the round. Then I started making good swings."

The five-stroke victory margin matched the largest in a CGA Amateur since 2003, when Kane Webber won by seven for his second straight title in the event. In 2007, Ryan Stephens also won by five.

Prater, who will compete in the U.S. Amateur starting on Aug. 15, shot a 2-over-par 72 on Sunday to post the only sub-par total in this year's CGA Amateur, a 3-under 277. The winner of both the Springer and the Pikes Peak Amateur in Colorado Springs earlier this year carded three birdies and five bogeys on Sunday.


Painton (left), an incoming CU-Boulder golfer from Green Valley Ranch Golf Club, shared second place, at 282, with 2015 CGA Junior Amateur champion Isaac Petersilie of Colorado Springs Country Club. Petersilie, an incoming University of Denver golfer, closed with a 69 and Painton with a 72.

Painton, a former 5A state high school champion, gave Prater the biggest challenge on Sunday as the 10-foot birdie he made on No. 12 cut the lead to three. But that would be as close as he'd get as he bogeyed No. 15 and missed a 3-foot birdie putt on No. 17.

"There was a stretch where I definitely could (make a run), but I just didn't make any putts," Painton said. "I had momentum, I just didn't capitalize on it. I didn't capitalize on a whole lot of stuff today. It was kind of frustrating. But it is what it is. Colin played great. He deserves it."

Colorado State University golfer Jimmy Makloski, of Pueblo Country Club, finished fourth on Sunday at 285, giving him three straight top-four showings in the CGA Amateur. DU golfer Chris Korte of Lone Tree Golf Club, last year's champion, and Cole Nygren of Colorado National Golf Club tied for fifth place at 286.

Prater went into the final round with a five-stroke lead, and one competitor who has seen him play a fair amount of golf figured he'd be tough to beat.


"I know Colin. I've known him for what feels like forever. And we played the first two rounds together this week," said Petersilie (left), a fellow Colorado Springs resident. "He's a good player. You've got to expect him to play good golf. You'd have to do something spectacular (to overtake him and win)."

Prater's 72 in the final round may not seem outstanding, but it was one of the top 10 scores posted Sunday on a Boulder CC course that proved formidable all week -- and Prater managed it while having the pressure of being the leader.

"It was not an easy golf course today by means," said Painton, who may have the opportunity to compete again at Boulder Country Club in the Pac-12 Conference Championships April 28-30.


"It was definitely a grind today," Prater admitted. "I definitely didn't have my best stuff, but it was nice to be able to get the win." (Prater is pictured at left with Bob Webster of Webster Investment Advisors, presenting sponsor of the CGA Amateur.)

In a field that featured many NCAA Division I golfers, Prater, a D-II player, came out on top. He started his college golf career at Colorado Mesa, and a three-win season as a freshman earned him second-team Division II Ping All-American honors.

When he decided to transfer, that's when D-I teams came calling, but returning to Colorado Springs and playing for coach Phil Trujillo at UCCS won the day, and he racked up two more individual victories this past season, placed fifth at regionals and landed on the DII All-American third team.

"I love Colorado Springs," said Prater, who has two seasons remaining at UCCS. "Coach Trujillo had a big impact on (choosing UCCS) -- and being able to go to dinner with my grandparents on Thursday night if I want to. I'm an only child and I'm really close with my parents and my grandparents."

But before returning to UCCS, there's that matter of competing in the U.S. Amateur at Oakland Hills in Michigan, a course that's hosted six U.S. Opens, three PGA Championships and a Ryder Cup. Prater departs on Thursday for his next big adventure.

For interactive scores from the CGA Amateur, CLICK HERE.

CGA Amateur Championship
At Par-70 Boulder CC
Colin Prater, Broadmoor GC 69-70-66-72--277
Spencer Painton, Green Valley Ranch 69-72-69-72--282
Isaac Petersilie, Colorado Springs CC 71-71-71-69--282
Jimmy Makloski, Pueblo CC 73-70-69-73--285
Cole Nygren, Colorado National GC 73-70-69-74--286
Chris Korte, Lone Tree GC 73-69-71-73--286
Dominic Kieffer, Collindale GC 78-70-70-69--287
Nathaniel Goddard, Ptarmigan CC 70-73-72-73--288
John Souza, Colorado National GC 73-74-70-71--288
Pierce Aichinger, Glenmoor CC 71-73-70-75--289
Kyler Dunkle, Club at Pradera 69-75-72-74--290
Jake Staiano, Glenmoor CC 73-75-74-68--290
Jake Kelley, Columbine CC 74-73-72-71--290
Christopher Thayer, Bear Creek GC 70-71-75-74--290
Quintin M Pope, Highland Hills GC 75-71-68-77--291
Bradley Phelps, Legacy Ridge GC 74-75-69-73--291
Cole Cunningham, Valley CC 70-74-72-76--292
Ryan Schmitz, Colorado GC 76-70-77-69--292
Andrew Romano, Colorado GC 76-72-70-74--292
Alex Kephart, Eisenhower GC 74-70-75-74--293
Joshua Seiple, Castle Pines GC 69-75-72-77--293
Philip Lee, Cherry Hills CC 74-72-75-72--293
Michael P Tait, Raccoon Creek GC 80-69-68-76--293
Taylor Kennedy, Columbine CC 73-69-73-79--294
Matthew Goddard, Ptarmigan CC 72-72-72-79--295
Ryan Axlund, Inverness GC 74-73-76-73--296
Sam Marley, South Suburban GC 76-75-72-73--296
Josh Hill, Omni Interlocken Resort 75-74-75-72--296
Danny Riskam, Omni Interlocken Resort 75-71-75-76--297
Steven Irwin, Lakewood CC 73-76-74-74--297
Grant Olinger, Ranch CC 80-71-71-75--297
Ethan Freeman, Glenmoor CC 75-75-74-74--298
Clayton Crawford, Maroon Creek Club 73-72-76-77--298
Zach Svendsen, Bear Creek GC 72-72-73-81--298
John Murdock, Collindale GC 73-74-76-75--298
Taylor Mackay, Fox Hollow GC 72-74-77-77--300
Josh Thomas, Green Valley Ranch GC 74-77-72-77--300
Darrin Hall, Lakewood CC 79-72-81-68--300
Cooper Taylor, Omni Interlocken Resort 74-76-75-75--300
Li Chen, Legacy Ridge GC 73-71-81-76--301
Kyle Kidd, Collindale GC 73-77-74-77--301
Jeff Tyrrell, Collindale GC 76-75-74-78--303
Glenn Workman, Desert Hawk GC 77-74-74-79--304
Missed 36-Hole Cut
Blake Young, Trinidad GC, 79-73--152
Dean Siskowski, Ptarmigan CC, 74-78--152
Michael Boylan, Highlands Ranch GC, 74-78--152
Eric Miller, Heritage at Westmoor, 73-79--152
Josh Gardella, Ridge at Castle Pines N, 75-78--153
Tristan Sanders, Commonground GC, 76-77--153
Jared Tedesco, Plum Creek GC, 72-81--153
David Leede, Cherry Hills CC, 80-73--153
Brittain Walton, Jgac Club, 78-75--153
Chris Dillon, Littleton GC, 81-73--154
Keegan Sheard, Omni Interlocken Resort, 74-80--154
Dylan Wonnacott, Fox Hill Club, 76-78--154
Braden Bentley, Cheyenne Shadows GC, 76-79--155
Ray Makloski, Pueblo CC, 82-74--156
Eric Hill, Collindale GC, 75-81--156
Jared Bickling, Gypsum Creek GC, 81-76--157
Ross Macdonald, CC at Castle Pines, 79-78--157
Brad Rowe, Ute Creek GC, 78-79--157
Michael Thomas, Hillcrest GC, 78-79--157
Collin Tedesco, Plum Creek GC, 82-75--157
Jeff Chapman, Inverness GC, 74-84--158
Gus Lundquist, Colorado GC, 83-76--159
Dan Deppen, Broadlands GC, 78-81--159
Sean Kurzweil, Red Sky GC, 85-74--159
Barrett Jones, Eagle Ranch GC, 80-79--159
Chace Nathe, Collindale GC, 82-77--159
Josh McLaughlin, Olde Course at Loveland, 82-79--161
Mike Chavez, Heritage at Westmoor, 81-80--161
Connor Klein, Lone Tree GC, 81-81--162
Trevor Glen, Legacy Ridge GC, 79-83--162
Chase Federico, Elmwood GC, 83-83--166
Andrew Cooper, Glenmoor CC, 77-89--166
Clint Miller, Meadow Hills GC, 87-80--167
Preston Ewing, Desert Hawk GC, 85-82--167
Rammi Hazzaa, Highland Hills GC, 82-85--167
Will Myer, Denver CC, 84-84--168
Rec Vertuca, Boulder CC, 89-87--176
Jon Lindstrom, Lakewood CC, 75-WD
Adam Griffith, Thorncreek GC, 81-WD
Behrod Keshtavar, Flatirons GC, 81-WD
Cameron Connor, Boulder CC, DQ